Order Your Gorby Jr. Today!
The GORBY JR is our newest addition to the Gorby line. It is designed for those that want to enter the market with minimal investment.
Priced at less than $7,000 , the Jr heat seals and trims the same quality pods as the larger machine, but at a reduced rate. It features the flexibility of both load quantity and being able to add flavors or oils.
Simple to operate, the compact unit has minimal controls: a 2-button activate (start) switch and a toggle switch to enter off-line modes. Operator feedback is through the multi-function LED.
When it is time to grow to a more production-oriented system , the investment in pods and film are directly transferable..
For more information, please check the specifications or contact us directly.
"The Gorby concept packages coffee that is amazing. The smell is divine and it's as smooth as silk. I grab my cup, pod and head to our staff lounge and the few minutes I steal, enjoying a bit of coffee, are heaven on earth. I've tried several blends of coffee made on this machine and the robust flavor leaves me wanting another cup."
– Sara Svira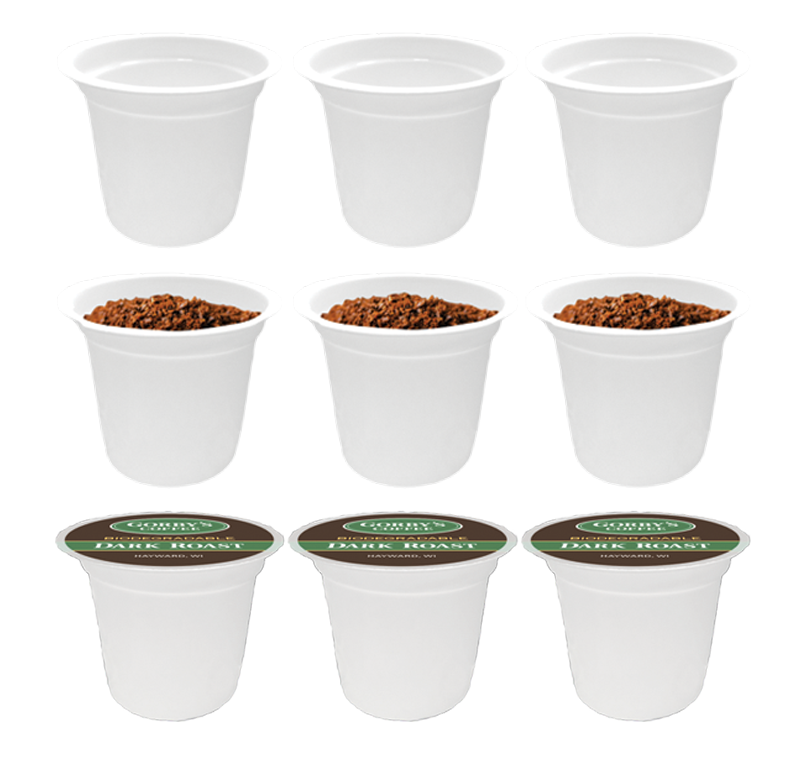 G-Pods
The demand for single-serve beverages is growing dramatically and is expected to keep growing by at least 30% a year (market study). This growth has created a problem. Firstly, coffee quality is being threatened by the process of mass distribution. Second, the BILLIONS of single serve pods sold annually are creating a huge amount of waste, and that's a problem. Fortunately, we have the answer! 100% degradable and compostable G-Pods sealed fresh locally at your favorite coffee shop.
Order Your Machine Today!
We are currently taking orders. The machines are built to order and require a deposit to secure a position in the order schedule. The machines are priced FOB St Paul and pallet shipped by common carrier. Delivery is estimated at 2-3 months from order date.
Call contact pricing.
Gorby LLC
2350 Helen St N
Suite C, St Paul, MN 55109
P: 651-207-4921
Emal Us