Gorby Coffee Packing Machine
Gorby was founded for one reason: to provide an ecologically and economically affordable way to enjoy the convenience of single-serving beverages. That's why in 2011 George Gorbatenko began working on a way to mass produce a compostable single serving coffee pod. Now, we are introducing the 100% compostable G-Pod.
The cup wasn't our only concern. Gorby believes that the best coffee is roasted locally and enjoyed at its peak of freshness. We know that the quality from most single serving cups suffers because of shipping, storage, and packaging long after beans are roasted. So we are introducing the Gorby 1000. With it's compact and ergonomic design coffee shops and roasters can now package up to 1000 pods per hour, on-site.
Gorby 1000
Powder coated for increased durability. This easy to use machine will package up to 1000 compostable pods per hour. By enabling specialty roasters and coffee shops to package on location, the flavor from the coffee is sealed in at the peak of freshness. Explore the machine below to learn more.
2-BUTTON SAFETY
We have ensured user safety by requiring users to simultaneously press 2-buttons to activate the…
FILLER
Precision augers allow you to precisely adjust the amount of coffee filled into each cup….
TURN TABLE
High resolution stepper assures accurate positioning. Powder coated for long-lasting durability….
SEALER
Held firmly in place with the beautiful golden arch, the sealer is center balanced to…
OPERATOR PANEL
Full color touchscreen panel offers full control of the machine with easy to navigate menu…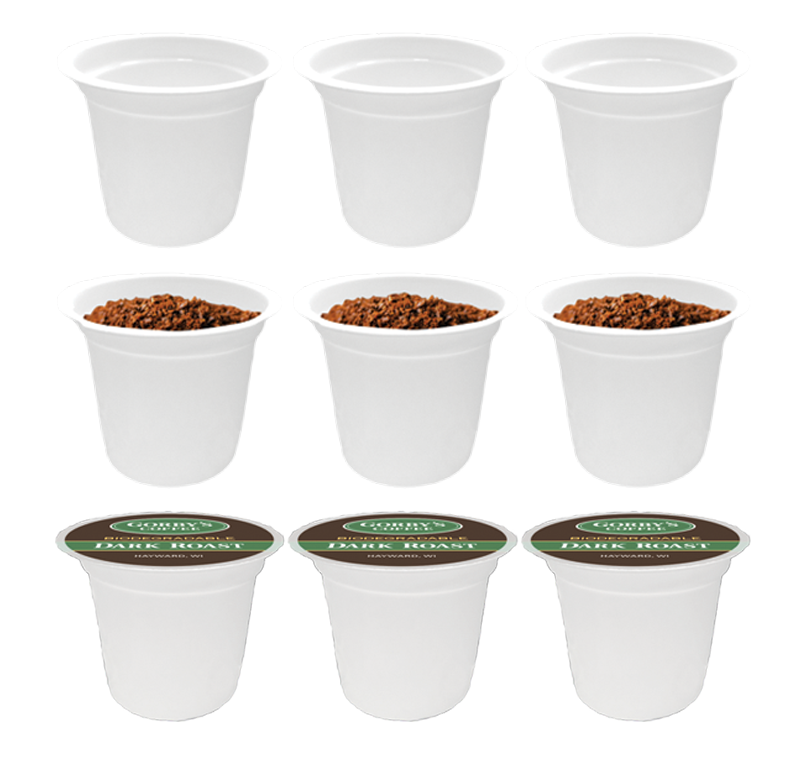 G-Pods
The demand for single-serve beverages is growing dramatically and is expected to keep growing by at least 30% a year (market study). This growth has created a problem. Firstly, coffee quality is being threatened by the process of mass distribution. Second, the BILLIONS of single serve pods sold annually are creating a huge amount of waste, and that's a problem. Fortunately, we have the answer! Compostable G-Pods sealed fresh locally at your favorite coffee shop.
Order Your Machine Today!
We are currently taking orders. The machines are built to order and require a deposit to secure a position in the order schedule. The machines are priced FOB St Paul and pallet shipped by common carrier. Delivery is estimated at 2-3 months from order date.
Call contact pricing.
Gorby LLC
2885 Country Drive
Ste 155, Little Canada, MN 55117
P: 651-207-4921
Email Us
From The People Who Use Gorby
I'm a morning person yet I dream about coffee and it wakes me up. I start my day with coffee and I work at an elementary school and as much as I love my job, good coffee is required.
The Gorby concept packages coffee that is amazing. The smell is divine and it's as smooth as silk. I grab my cup, pod and head to our staff lounge and the few minutes I steal, enjoying a bit of coffee, are heaven on earth. I've tried several blends of coffee made on this machine and the robust flavor leaves me wanting another cup.
In our school, we recycle many items and we even donate food scraps to feed farm animals. We are conscientious in our efforts to teach students about reduce, reuse and recycle and that's why it's great that Gorby coffee pods are compostable. It's awesome coffee and another way for our school to be good to the Earth.
Sara Svir, Principal
Vadnais Heights Elementary
Sent a pound of beans to George at Gorby and I am thrilled with the results!  The extraction level is amazing, the coffee tastes great, and the yield is very efficient.  Also, I appreciate the compostable pods.  This is the company to seek out. I look forward to the release of the Gorby Jr.
Jacob Galbraith
Roaster & Owner, Asher's Coffee Beans
(703) 855-3241